MEET OUR TEAM OF CARDS (BUBBLE GUM NOT INCLUDED)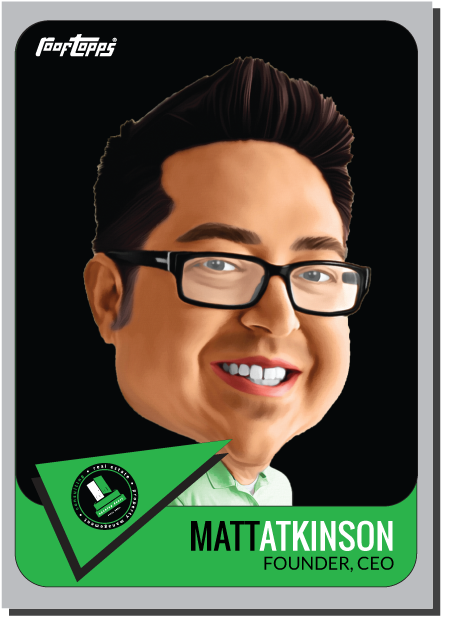 MATT ATKINSON, FOUNDER & CEO
Matt Atkinson started his career in real estate 17 years ago as a mortgage professional and has been investing for the last 14 years. He purchased his first investment property in 2004, a single-family home through a short sale, which is a rental unit he still owns today. However, he over-improved the property, spent too much money on the renovation, and mismanaged his tenants. Throughout this process he learned the struggle of having a full-time job and being a landlord, and how to effectively utilize other industry professionals to improve his investing. Matt credits this experience with getting him addicted to local real estate investing and now owns over 14 million of rental properties personally and with partners. 
He has accumulated 25,500 hours experience – nearly 7 years round the clock – and has personally invested over $1.87 million dollars in rehabbing rental properties since 2004, and an additional $4.55 million on flip properties since 2008. After making only $500 on his first flip project, he reevaluated the strategies others were using and learned how to effectively buy the property, get the most bang for his buck during the remodel, and how to price the home for the quickest and most profitable return. In 2012, Matt and his team added real estate consulting to their services.
Matt has focused consulting on a local level with his expertise ranging from rentals, land lording, hard money lending, fix and flipping, assignments and building wealth as an investor.  He has served as the President of the Utah Valley Real Estate Investors Association (UVREIA) for 7 years, a board member of the Salt Lake Real Estate Investors Association (SLREIA) for 9 years, a member of the National Association of Hispanic Real Estate Professionals (NAHREP) for 5 years, and is a member of the Utah Association of Mortgage Professionals (UAMP) for the last 4 years.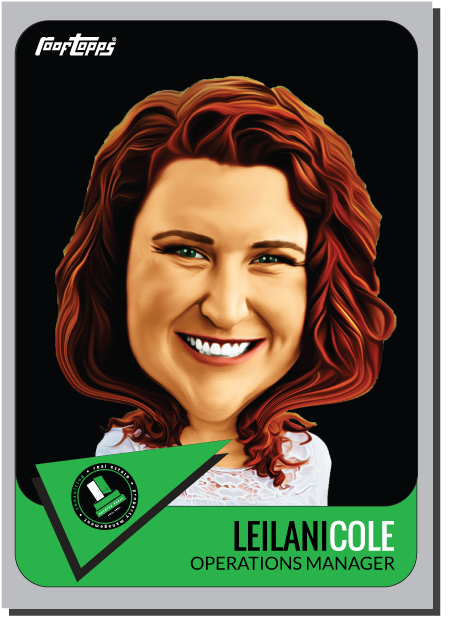 LEILANI COLE, OPERATIONS MANAGER
Leilani began working with Matt Atkinson in 2006 while earning her bachelor's degree from BYU.  She initially assisted with developing an organized system for rental properties (what Matt loosely called 'property management') and later began working with investors who wanted to create real estate portfolios with rental properties and create wealth by flipping properties.
As a real estate agent since 2008 and later real estate broker, she is skilled in identifying properties that will create both active and passive income for investors and helping them increase their real estate knowledge and experience. During her time as a licensed realtor she has closed over $34M in real estate transactions as both a buying and listing agent and has experience with both conventional and non-traditional financing options.  These transactions have ranged from short sales, seller-financed options, bank-owned, and distressed properties to short-term flip properties.  She currently partners with Realtypath as an Associate Broker.
Lani assists with MJA training programs and has contributed to curriculum and presentations for seminars, workshops, and boot camps. In her free time she enjoys hiking, traveling, reading, and spending time with her husband.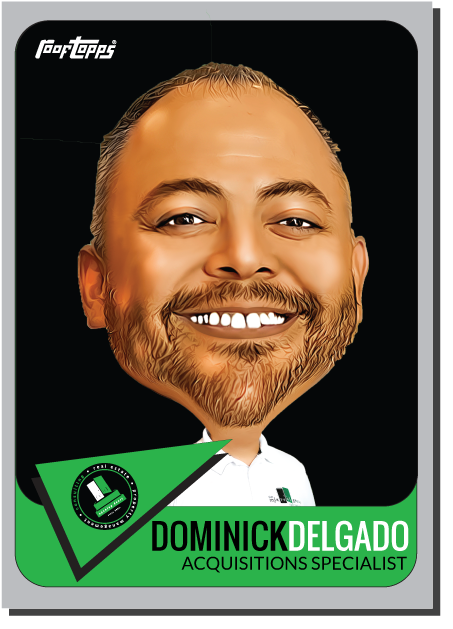 DOMINICK DELGADO, ACQUISITIONS SPECIALIST
Dominick attended his first real estate training in July 2003 and 8 months later, using a lease option strategy, he purchased his first single-family residence with $10 down.  He later sold this same property using a lease option and over the last 14 years has continued to buy and sell over 100 properties with creative financing strategies.  
He has performed short sales, subject-to, seller financing, hard money financing, and utilized a variety of other strategies in between.  His leadership, practical experience and "hustle" mentality has given him a unique advantage to grow and adapt in different market cycles, and he is constantly learning in the evolving in the world of real estate.  Dominick has worked with MJA Real Consulting since 2016 as a valued team member and acquisition consultant. 
Dominick volunteers as a board member of the Salt Lake Real Estate Investors Association (SLREIA) where he has found value in giving back to local investors who want to enhance their knowledge. In addition to loving real estate investing and the lifestyle it can provide, he is a happy husband and father of two children.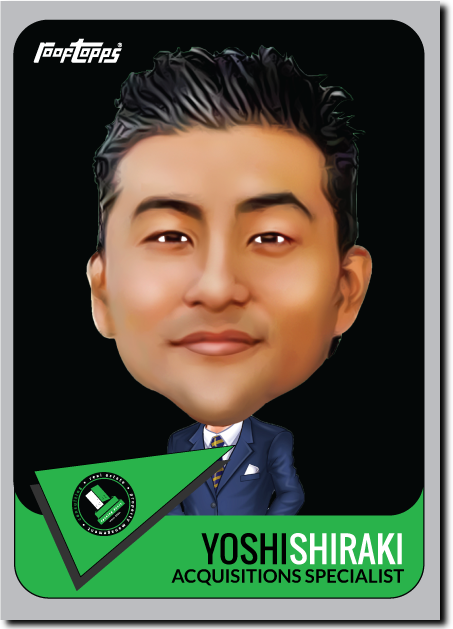 YOSHI SHIRAKI, ACQUISITIONS SPECIALIST
Yoshi was born and raised in Salt Lake City and throughout his life has lived in various cities, from London to Tokyo and later New York City where he was a stylist to the rich and famous.  During this time, some of Yoshi's clients were Anderson Cooper, Joan Osborne, Matthew Broderick, and other well-known faces!
Yoshi started his investing career in 2001 by purchasing his first rental property in Salt Lake, though he was living in Manhattan at the time. While attending Real Estate Investing Association groups in NYC, he learned that the focus of their education was buying real estate outside of NYC due to the extremely high housing prices.  With this knowledge, Yoshi started investing in upstate New York, Kansas City, and Salt Lake City while living remotely.
 
He soon became a familiar face in the investing community and was approached by Robert Allen, John Dessauer, Cameron Dunlop, and Steve Martel to speak for their respective companies.  He has shared the stage with both John Dessauer and Steve Martel as they've presented to thousands of investors across the country in cities such as Orlando, Key West, Atlanta, Chicago, Kansas City, Phoenix, Austin, Las Vegas, Salt Lake City, and Los Angeles. 
Along with being a real estate investor, Yoshi has always had an entrepreneurial spirit and owns a U.S. patent on an invention; he is also a published author on a book that Robert Allan and Richard Paul Evans helped him publish.  Yoshi shares that he is extremely humbled and grateful that the MJA Real Consulting team recruited him to join their growing company and he is excited to help us as grow to the next level, with a National presence on the horizon!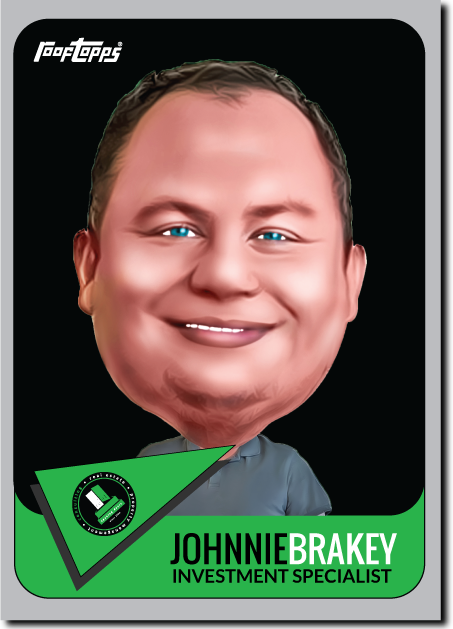 JOHNNIE BRAKEY, INVESTMENT SPECIALIST
Johnnie Brakey is a born-and-raised Utah native and while he is the newest member of the MJA team, he has many years of experience in the world of real estate investing.  From 2003 to 2005 he worked for the Whitney Education Group as a seminar coordinator and was able to attend many premier education events and trainings with Russ Whitney, as well as other experts in the investing world. 
After deciding to continue his formal education, he took a position with retail giant, Old Navy, and worked his way into management roles where he was personally recognized by the Vice President of the company for his contributions and success in the Utah market.  After 7 years in retail management, he decided it was time to spend less time on the sales floor and more time at home with his husband. 
Johnnie earned his Utah mortgage loan officer license and began working with the Matt Atkinson team at Intercap Lending, and now with the MJA Real Group as  our lead Investment Specialist.  Johnnie and his husband, Ben, love traveling, local soccer team Real Salt Lake, and their two cats: Eva "Purrr"on and AbbyLee.